Mold Inspection Service Area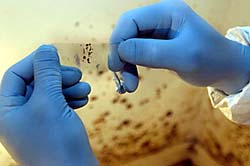 We will travel to perform mold inspection and mold testing services anywhere in Northern Illinois and Southeastern Wisconsin. Our business hours are listed as 7:00am – 11:00pm every day of the week. However, please call at any time if you need emergency mold testing. We understand that you may have a mold related health concern, or you are trying to complete a real estate transaction and there is a question as to whether the property has a mold problem.
We will work quickly to do mold testing rush service through an independent laboratory to provide mold test results as quickly as possible. Below are links to cities in our service area.