Healthy Home Mold Inspection Milwaukee WI
Call Us BEFORE you call a mold remediation company – We could save you THOUSANDS!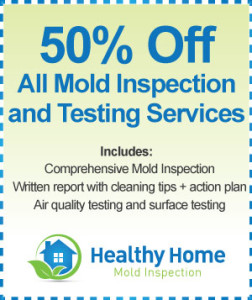 Here's why:
1) Before you call mold remediation companies, you need to make sure you ACTUALLY have mold. Remember, mold remediation companies make money SELLING projects. A free mold inspection is actually a sales call and a bid.
2) Are you getting an unbiased mold inspection, or a bid for mold remediation?
– A 'free' mold inspection is actually a mold remediation bid
– A low cost mold inspection may be a fee to come out and look at your possible mold problem and the amount paid can be used as a credit to the cost of mold remediation services from that one contractor. HOWEVER, you may want to get several bids. Don't feel like you're locked in with one company to do your mold remediation project because you paid money to them. And it really doesn't make sense to pay fees to several companies.
Should you trust the opinion of people who come out and 'take a look' at your mold? Not really. And here's why:
A client called us for help. He had four mold remediation companies look at his attic to give him a bid for mold removal. Two problems came up:
– Three contractors gave him attic mold removal bids that ranged from $2000 – $7000.
– The fourth contractor really threw a wrench into the situation by telling the client that he didn't have attic mold at all – the wood just looks discolored because it's old.
NOW WHAT??
The answer: Call us for a mold inspection and testing to determine if you have a mold problem in the first place.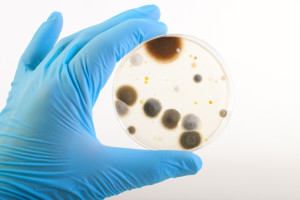 Here's the mold inspection process:
1) The Visual Inspection
A Certified Mold Inspector looks for signs of current or prior water damage such as plumbing leaks, roof leaks, basement seepage, sump pump failure, appliance leaks, etc. If any substance is found that could be mold, surface samples are taken to verify if the substance is mold and what type.
2) Mold Air Quality Testing
There are always mold spores floating around in the air. They originate outdoors and are a part of the natural environment just like dust and pollen.
The question is: Do you have elevated mold spore levels in your home? If the mold spore count is higher inside your home compared to the outdoor mold spore count, you may have an indoor mold colony. Here's how we test your air for mold:
We sample the outdoor air to determine the mold counts on the day of your test. We then sample the air in multiple areas of your building to compare to the outdoor sample. The air inside your building should have lower levels of mold spores compared to the outdoor sample.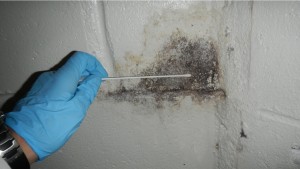 The Results of Your Mold Testing
1) Your mold tests are normal. Yay! We saved you money on a mold remediation project you didn't need.
2) Your mold tests show counts above expected levels compared to the outdoor control sample. Okay, don't panic. Once we review your mold testing results we can make some recommendations about what you need to do next.
– If you would like to clean up your mold problems yourself, we'll give you instructions and a materials list.
– If you would like the help of a professional mold remediation company, we will connect you with companies that do a good job and charge a fair price. Do not feel pressured to make a quick decision! If your situation poses a health risk, we will tell you. Don't fall victim to mold remediation companies that use scare tactics or charge sky high rates because you're under a deadline for a real estate transaction.
Call us today to talk to a Certified Mold Inspector about your concerns and we will help you make a plan. Don't hire a mold remediation contractor until you call us. Your phone consultation is always free, and we may be able to save you THOUSANDS of dollars.
We guarantee the lowest Milwaukee mold inspection and mold testing rates
Healthy Home Mold Inspection
2182 N 56th St
Milwaukee WI 53208
(414) 436-9011
Read more about Milwaukee Mold Inspection on Wikipedia
Contact Healthy Home Mold Inspection Milwaukee for a free phone consultation
Milwaukee Mold Inspection Home Page